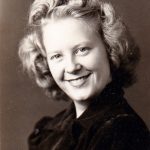 She opens her mouth in wisdom, And the teaching of kindness is on her tongue. She watches over the activities of her household, and does not eat the bread of idleness.
Proverbs 31:26-27 (NASB)
Those who have read my book, In a Mirror Dimly will recognize the story that follows. I'm repeating it today because today is a very special day. All of us who have lost a loved one recognizes the pain of an anniversary, particularly the day that they left us. Today marks six years since our Mom, Elizabeth Sue Beadles Fleming broke the painful bonds of this earthly life and went home to be with her Savior…..oh, I'm certain!
My sister, Susan and I had been raised in an environment poisoned by a hateful, sociopathic father. He never missed a chance to hurl hurt on our sweet Mom. We were led to believe that anything positive had come from him. What we learned is that almost every strong and faithful trait that we inherited came from her. She was indeed the rock of our family.
Her wit and sense of humor and her strength were legendary and sustained us. She could find humor in some of the strangest things! Some of her observations remain favorite family stories. But aging was not kind to her. She developed progressive dementia, and we lost her the first time about 10 years earlier. She and our dad lived in a small house for a while and then in a memory unit. But she did not recognize even him. When he died we never even told her since she didn't know who he was.
The entry below was written about two years before her death. She lived about one hundred miles from us, and weekly I made the trip over to visit her. She had not recognized me – or anyone else for many months when this occurred. It remains one of the sweetest memories I have of her. We miss you Mom….
Dear Mom,
I came to see you last week, but you didn't know me. You are in that final progression of dementia that has taken you away from us. But I cling to the memories of you. And every once in a while, a small window opens that reveals your personality just as it always was. A few weeks ago, I sat holding your hand while you colored in a coloring book. After a few minutes, you looked at me and said, "I know you. And I love you." No more beautiful words have I ever heard. But then you handed me a crayon, and I started coloring on the page with you. You looked at me with that old, exasperated look and said, "You never could stay inside the lines."
And I couldn't! And that was the real you shining through the darkness of this evil disease for a flickering moment. How I will always treasure that small moment.
April 2014