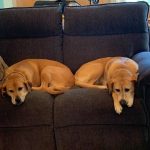 34A new commandment I give to you, that you love one another: just as I have loved you, you also are to love one another.
John 13:34 (ESV)
18 There is no fear in love, but perfect love casts out fear. For fear has to do with punishment, and whoever fears has not been perfected in love. 19 We love because he first loved us.
1 John 4:18-19 (ESV)
I've been in blended family relationships for over 45 years now, and my new marriage brings more of the same. You see Sally and I each brought children to our marriage. She had two sons and I have a daughter; and then we added our son, Matt. From these I have seven beautiful grandchildren. When Debby and I married a few weeks ago, she became another part of our blended family. And I am blessed to have become part of an extraordinary array of friends and family who love her. This family also includes two very important individuals: our 4-legged companions, Marnie and Lanie are 6-year-old sisters, Labs, who Debby rescued years ago. They are at once the most spoiled, most loved and most fortunate of God's creatures. Our relationship has developed – it's all about the quality of treats that I offer. But now they have accepted me, and we love each other. It makes me think again about God's covenant of love.
I've written a lot about friendship and about love. I am convinced that God created our need to fellowship with friends because He also created our need to be with others, to communicate and have companionship. He also knew that He had to model love to us, particularly the kind of unconditional love He displays for us. And that's why God blessed us with pets.
Our love for a trusted pet is truly unconditional. We don't love them because of their investment portfolios, their fastidious ways or because of their table manners. We don't even base our love on their loving behavior towards us – otherwise how can one explain cats!! (Sorry, no offense intended).
Instead, we love them and they love us unconditionally. It doesn't even matter how we behave toward them, a faithful companion will still show us love. We can yell at them, scold them, become frustrated. But they will still show us love. Unconditional love.
Think of them as the model for love that God has placed into our lives, a constant primer on His new covenant:  to love one another – all others – as He loves us.