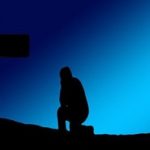 Blessed be the God and Father of our Lord Jesus Christ, the Father of mercies and God of all comfort, who comforts us in all our affliction, so that we may be able to comfort those who are in any affliction, with the comfort with which we ourselves are comforted by God.                                                                                      2 Corinthians 1:3-4  (ESV)
     …give thanks in all circumstances; for this is the will of God in Christ Jesus for you.
  1 Thessalonians 5:18   (ESV)
 I am blessed! And I am thankful for all of the blessings God has lavished on us. Now after reading my last blog post some may ask, "How is it you are blessed?"
Allow me to count the ways, but first let me explain. There can be no greater or more powerful blessing than to be prayed for by others. It is a real and tangible experience. I've experienced this a few times: when Sally was very sick, we were being lifted up by brothers and sisters from, quite literally, around the world. She told me how she could feel these prayers. Throughout this last season of my illnesses I discovered the same phenomena. A friend in Australia told me that he had been praying for me, and I already knew that! Another in Cuba, another in my church here. These prayers are the very definition of the love that the apostle John proclaimed, and which Paul wrote about. When others pray for us to comfort and support us, it is with a heart full of love.
As I recognize how powerful this ministry of prayer really is, I am led two places: first, to pray for others who are in pain or despair. How better can I love another? And second, to pray now; I mean right now! Too often I fall into the trap to which we all succumb. "I'll pray for you," I say. When? When it's convenient? How about right now. After a recent bump in my own road, I was meeting a friend for breakfast. When I told him all that was going on, he dropped his fork, looked across the table and began the most heartfelt prayer I've heard in a while. For me. Another prayed over the phone. Each one lifted my heart and my spirits. How can I deny that to any of God's children?
I implore you: love your neighbor. Never miss the chance to pray with and for them. For we are comforted so that we may comfort others.