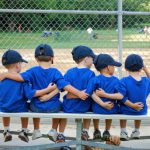 Last week we cheered on my grandsons at their baseball games. The first game was Graham's – my 7-year-old – and it was a "nail-biter," coming down to the last out. But during an earlier inning one of his teammates overran the bag at second base and was tagged out. This small child's father began berating him from the bleachers, shouting to the child "What a stupid thing to do!" The young boy began to cry inconsolably at the outburst, being embarrassed in front of his friends. He ran into the dugout to get away from the yelling. But then every other child on that team came to him on the bench to comfort him, to shield him really. They reassured him and patted him on the back. Small children showed him that they cared for their friend.
A few days later we were in the bleachers for John's – my 9-year-old – game for the championship. They were down to only nine players on the bench. One of their teammates had to have surgery before the season came to an end, so was unable to play. Early in the game the young boy who had had the surgery came to the dugout. All of the boys came to the fence to cheer and greet their friend; but then they all invited him into the dugout with them. He might not be able to play, but he was a part of the team.
What incredible displays of true friendship! What a life lesson!  I stand convicted. Am I that loyal a friend?
Yep, again I've learned from watching children.