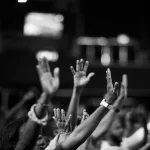 You shall love your neighbor as yourself.                 Matthew 22:39 (ESV)
The second is this: 'You shall love your neighbor as yourself.' There is no other commandment greater than these."

Mark 12:31  (ESV)
And he answered, "You shall love the Lord your God with all your heart and with all your soul and with all your strength  and        with all your mind, and your neighbor as yourself."              Luke 10:27   (ESV)    
                                            For the whole law is fulfilled in one word: "You shall love your neighbor as yourself."      Galations 5:14  (ESV)

On June 24, 2022 folks in many parts of the country were jubilant, and others were angry and depressed. Wherever you stand on that scale, the future will mean many more infants born in difficult circumstances that will burden a healthcare system that is already overburdened. What's next?
With the prayers and the compassion that have gotten us to this point, each of us must now change focus to caring for these children of God. This isn't the time for finger-pointing or vilification. It's time to love our neighbors. It's time to prove to those who don't believe as we do that we really mean what we say: we really mean that we love our neighbors.
According to a report published in BMC Women's Health, women who chose abortion said they did so primarily because of finances 40%, timing 36 %, partner-related reasons 31 %, and the need to focus on other children 29%. Women facing an unwanted pregnancy may need compassionate help with quality childcare, counseling, employment, parenting resources, and financial support. There may well be other difficulties as well. Christ taught that we should travel the extra mile, give willingly of ourselves to help those in need. And these are in need.
Each of us has a part in this. This is the time for Christ's church to show the love we have been commanded to show. If we are a people of faith, we must live it. If we ardently support life, we must support it with every fiber of our being. We must show Christ's love.