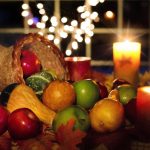 Enter his gates with thanksgiving, and his courts with praise! Give thanks to him; bless his name! For the Lord is good; his steadfast love endures forever, and his faithfulness to all generations.
    Psalm 100:4-5 (ESV)
There are a lot of reasons associated with Thanksgiving – that is to Thanksgiving Day, the reason to over eat, over shop and over decorate – and for every store known to man to ply us with ads for Christmas sales. Consider with me what this is really all about.
Let us give thanks. The psalmist entreated us, not just with his words but notice that each phrase in his exhortation is followed by a mark of exclamation to show the passion behind his words. We are implored to enter the gates of His kingdom with thanksgiving! To enter His courts of grace and mercy with praise! And then, to give thanks to Him and to bless His name! How much clearer can it get?
Also note that there must be a recipient of our thanksgiving. Just like love, we must give thanks to someone, to some being. A gift without a recipient, an unopened gift isn't a gift at all. In my book In a Mirror Dimly I wrote,
"Gifts are like that. What is a gift worth if unopened? If you gave me a gift and I put it in a closet and never opened it, never accepted it, how much is it worth to me? And His grace is His gift, no different than the mountain peaks that I so admired. If I don't look upon them and appreciate their beauty, they are of no value.
How great is our God?"
Our praise and thanksgiving are due him because His steadfast love endures forever. Think about it: what did any of us ever do to deserve the beauty of a fall morning, the fondness for a special pet, the hug of a child, the blessing of friends and family? And all of these do, indeed, endure forever.
Finally, His faithfulness is there for all generations. What a promise! Our ancestors, our children, our grandchildren, and on and on for "a thousand generations" will know His faithfulness. We can stray, we can sin, we can fail, we can do the many things we don't want to do, and He's still there – faithful.
The cornucopia is a favorite symbol for the season. It represents the bounty that He has provided for us. I wish for you and yours that you will embrace the Lord who has given us bountiful life and love and accept the gift that is given. And then that we each do what one does when one is given a gift: "Enter his gates with thanksgiving, and his courts with praise! Give thanks to him; bless his name!"