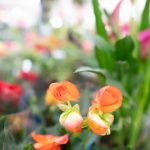 3 Blessed be the God and Father of our Lord Jesus Christ, the Father of mercies and God of all comfort, 4 who comforts us in all our affliction, so that we may be able to comfort those who are in any affliction, with the comfort with which we ourselves are comforted by God. 5 For as we share abundantly in Christ's sufferings, so through Christ we share abundantly in comfort too. 6 If we are afflicted, it is for your comfort and salvation; and if we are comforted, it is for your comfort, which you experience when you patiently endure the same sufferings that we suffer. 7 Our hope for you is unshaken, for we know that as you share in our sufferings, you will also share in our comfort.
                                                                                                                                                                                                                                   2 Corinthians 1:3-7
Comfort and Peace
We each in our lives will experience pain, loss and times of unrest. We have been promised as much, haven't we? Whenever we go through major life changes, we have discomfort. We seem to not be able to experience peace. But the Apostle Paul spoke specifically to that in this passage in 2 Corinthians. He says that we are comforted by God so that we can comfort those around us. I never understood quite how profound were these words…. until I experienced such a loss.
I was surrounded by close friends. Some of these had themselves experienced such loss, and it was to them I was drawn. They advised, reassured and, indeed, comforted me. And then I found myself in places where I could provide the same comfort to friends who have lost, proving the apostle's words true.
For those who are loved ones and caretakers of family members with Alzheimer's, we also know loss. But, instead, we lose them while they are still here. Painful! I have experienced this as a physician caring for such folks, as the son of a mom with this awful disease, and as a friend. And it was in this role as a friend that I have again experienced this comforting.
My friends have had over 60 years of marriage. They are both wonderfully talented and god-fearing people, but she is in an advancing stage of dementia. For her care, he has moved her to a memory unit. He has experienced the loneliness and guilt. But then, he went to see her last week, and found her deep in a caring conversation with another resident. He witnessed her, even in her dementia, ministering to this man who needed comfort and peace. "….so that we may be able to comfort those who are in any affliction, with the comfort with which we ourselves are comforted by God."
I offer this to all:  we are each imbued with spiritual gifts that can comfort others. We can give comfort and peace no matter what our situation and place in life. We have been created to do so.