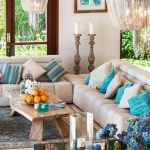 I will admit that this is an odd topic considering where we've been headed, but it's on my mind and I need to talk about it. A simple question: what is that ladies have with pillows?
When I moved into my house here in Nashville, I hired a decorator to help me since I am totally without an "eye" for design. She is a very accomplished and well-thought of decorator, so I trusted her. But when I, a single man at the time living alone, came into my bedroom for the first time, there were seven – yes, count them seven pillows on my bed. I sleep with one pillow, a small one at that. Why did I need seven?
So if we must have all of these pillows, what's the deal with the placement? It became obvious that I was not replacing the pillows in my bedroom correctly when I noticed that when my decorator would come to my house the first thing she did was to head into my bedroom to re-arrange the pillows. And a few times I had, God forbid, forgotten to put the pillows back on the bed. It was as if I had spoken badly about her talents.
And now I'm remarried and it's happening all over again. Our new bed has eleven pillows. Again, there's a design that must be followed. Early in our married life I wanted to help by making the bed; but I didn't get the design exactly right. OK, so I admit it was pretty far off. So I received a tutorial on pillow placement. Next time I apparently didn't do much better. Then it occurred to me to take a photo of the correct placement for referral. I use that picture frequently.
As our remodeling project is ending, we bought a new sectional sofa. When it was delivered, there were six pillows that came along with it from the furniture store. Last night Debby told me that she wants to replace some of the pillows that came from the furniture store, and that we need to add more pillows, that better reflect her colors. By the way, it's not because we need more pillows on the sofa for the comfort of our guests who might sit there.
So I again pose the question: what is it with the pillows? Now I'm not looking for affirmation from my male readers that this is a widespread issue, because I've already determined that it is. And I'm not really trolling for critique from my female readers because I'm certain that is to come. What I really want is an answer to my question.
Well?