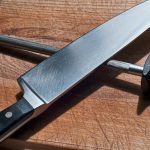 After last week's blog Pillows, I received a large volume of comments, particularly from women. One of those was from my lovely wife, Debby. She pointed out that I – even I – have a few particular possession idiosyncrasies. Actually it's only one….or two at most. She specifically pointed out my cutting board and knives. Please allow me to explain. After we married, I moved into her house. But there were some things not quite right in her kitchen.
I enjoy cooking and preparing things in my kitchen. I even enjoy the prep time of cutting and chopping. What makes that enjoyment complete is my cutting board. It's a thing of beauty, solid maple and engraved with my name. It was a gift from a best friend for my 40th birthday. It is multifunctional: one side perfectly flat for cutting and chopping; the other side with a deep slot around the perimeter to catch drippings when I'm carving roasts or turkeys or chickens. It's large and heavy. Wonderful design! To care for this treasure I clean it carefully after each use with coarse salt and the cut surface of a lemon. This cleans without damaging the wood. Then I carefully anoint – er, apply a coat of mineral oil to repair the wood. I even have a special "cutting board mineral oil," and a special anointer – er, applicator for this task.
My knives have been a part of my prep routine for years. They are, like my cutting board, old friends. Perfectly designed and balanced, always kept sharp. A knife for each task. My favorite is my chef's knife. I love chopping vegetables with this object of culinary art. It is perfect for so many tasks, and it is a special joy to use my chef's knife with my cutting board.
Now I ask you, what could be idiosyncratic about these? But Debby enjoys telling her friends about my cutting board, its cleaning routine and my knives. They even ask to see them when they come over!
So now you all know. I've confessed to a slight obsession, but only slight. Are we even now??